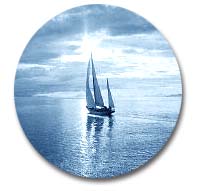 The ultimate way to experience Turkey's intriguing coastline is by taking a 'Blue Voyage', a uniquely Mediterranean style of cruising. This is a relaxing sailing trip along the Aegean and the Mediterranean coast, through impeccably clear turquoise waters, in and out of countless isolated bays and coves, visiting the harbors of small picturesque villages and weaving along a coastline rich in mythological ruins of distant times gone by.

A great portion of these ancient sites are thankfully 'undiscovered', appearing almost untouched, as there are not many highways in the region. Even today, some of these coastal areas are only accessible from the sea. All the sights combined on the Blue Voyage offer a truly
unforgettable experience - one where nature and history blend in a unique way.

The Blue Voyage is taken aboard a 'gulet' - a traditional pine wood yacht, with a pointed fore and round aft, with a double or single mast. The recommended occupancy for the cruise is between 8 to 12 people. Modern gulets are comfortably equipped with all the necessary amenities.